Enjoy these "Made in the Shade" Activities for All Ages, 0 – 7 years
Join your BABY for an indoor dip in the "pool"… without the hassle of sunscreen or lots of gear!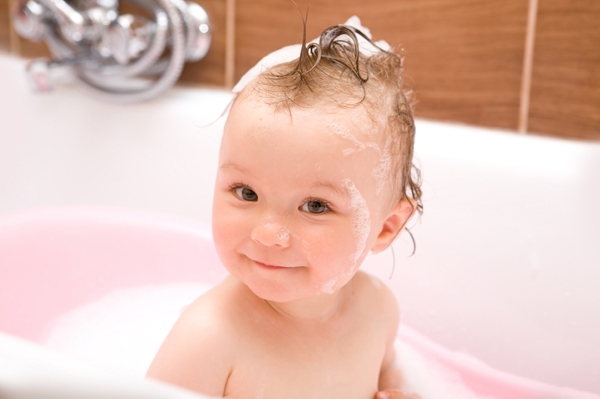 For an enriching pre-nap activity, why not suit yourself and your cutie for a dip in your very own heated indoor pool (aka the bathtub). Water isn't just for drinking or getting clean-water play encourages sensory development and offers plenty of opportunities for exploration, discovering new concepts, and building vocabulary.  Your presence in the tub will foster a sense of security and attachment while promoting the confidence your water baby needs to fully explore this fun environment!
To really make a multi-sensory splash:
Pour and squirt with funnels, plastic cups, or a turkey baster
Squeeze and dribble with sponges
Bring in toys that float and toys that sink
Play music-Kindermusik's Tub Tunes is perfect for bath fun!
Scent the water with food extract – anyone for orange, mint, or almond?
Lightly tint the water using a few drops of food coloring.
Stay inside and have a ball with your TODDLER!
What an accomplishment! Your little one is walking…maybe not so steadily, but walking nonetheless as she develops her skills in upright locomotion and balance. Why not grab a large ball and use it to engage your toddler in a variety of activities that will improve her balance and strengthen her core muscles.
These lively activities will challenge your toddler's posture control, stability, and judgment as she negotiates different positions in order to accomplish certain tasks:
Kicking the ball will require her to shift her weight to one foot and support herself. Goal!
Throwing the ball calls for balance, coordination, and the use of two hands. Strike!
Jumping up and reaching for a ball hung from the ceiling promotes stretching, strengthening, and coordination. Rebound!
Sitting on top of the ball and bouncing gently up and down (while you hold her steady to avoid falls, of course!) is sure to elicit smiles and squeals of delight, even as it strengthens core muscles and promotes balance. Singing a song while bouncing is sure to add to the fun!
Enjoy a "camp-in" with your PRESCHOOLER! (No bug spray necessary!)
Who needs to be outside to camp? Certainly not someone with the imaginative mind of a PRESCHOOLER!
Preschoolers love to pretend-and they should be encouraged to do so often. When your child engages in pretend play, he expands his understanding of himself, others, and the physical world. There's a growing body of evidence to suggest that pretend play also improves a child's ability to take another's perspective, engage in abstract thinking, and communicate with peers and adults. To beat the heat and avoid the bugs of summer, invite your little scout to join you for a "camp-in!"
Pack your bags, backpacks, or pillowcases with all the necessary gear (flashlights, water bottles, a deck of cards, a very important stuffed friend)
Make sure to bring pillows and sleeping bags (folded blankets will work)
Choose a campsite (guest room, living room, den)
Clear your spot and lay out your sleeping bags-you may even want to pitch a tent using blankets and furniture (chairs and tables work well)
Some fun activity ideas:
Make indoor s'mores. Lightly toast large marshmallows on a greased sheet of parchment paper on a baking sheet at 400 degrees for 4 minutes.  Put a toasted marshmallow and a piece of chocolate between two graham crackers and tightly wrap the whole thing in foil.  Wait a minute for the chocolate to melt and enjoy!
After sunset, play flashlight tag in a darkened room of your house.
Take turns hiding a stuffed animal for one another to find using the flashlight.
Tell silly stories or jokes. Check out Critter Giggles for age-appropriate giggles!
As the night draws to an end, lie on your backs, turn on some soothing music, and dance the light of your flashlights on the ceiling to create constellations or shooting stars to gaze upon. Bach & Baby – Playtime provides the perfect classical music with the just the right rhythms.
BIG KID Mud Pie: Dig In-It's Gooey and Delicious!
Share some quality time with your child and get messy making gooey mud pies! Besides the obvious fun of hanging out in the kitchen with you, school-age kids can learn some cooking basics and use their math skills as they measure and combine ingredients for the pie. Work together, helping your child while allowing her to take the lead in pouring, scooping, and spreading. Sure, things could get pretty messy, but relax-it's all washable. And given the ingredients, no matter how the pie is put together, it's sure to be delicious!

 What You'll Need:
3½ cups crushed chocolate graham crackers or chocolate sandwich cookies
6 tablespoons melted butter
1 quart chocolate ice cream
½ cup chocolate fudge topping
½ cup small candy (chocolate chips, M&Ms, Snickers, gummy bugs)
1 cup heavy whipping cream
¼ cup powdered chocolate or hot cocoa mix
What You'll Do:
WASH HANDS FIRST and help your child measure out all of the ingredients before you get started.
To make the crust, place the cookies in a large sealable plastic bag, close it tightly, and crush the cookies with a rolling pin until they resemble dirt.
Pour 1 1/2 cups of the crushed cookies into a 9-inch pie pan (save the remaining crumbs for the topping).
Stir in the melted butter, then press into the bottom and sides of the pie pan.
Freeze for 20 minutes.
Remove the chocolate ice cream from the freezer and soften at room temperature for 10 minutes or microwave for 10 seconds.
Spread half of it (2 cups) onto the bottom of the chilled crust.
Next, dig potholes in the ice cream. Fill each with 1 tablespoon of fudge topping.
Freeze for 10 minutes, or until the ice cream and fudge topping are set.
Tip: Tell your child that it's okay to get her hands gooey, just as if she were making a real mud pie!
For an extra-chocolaty mud pie, stir small chocolate chip "rocks" into the remaining ice cream.
Remove the pie from the freezer and spread this rocky ice cream evenly over the first layer.
Place the pie back in the freezer while you whip the cream.
Tip: Encourage your child to improvise! Instead of chocolate chips, ask what other sweets she might add to her mud pie, such as M&M's, gummy bugs, or Snickers.
To make the whipped cream, ask your little chef to pour the heavy cream into a chilled mixing bowl and beat with a hand-held mixer at high speed for 3 to 5 minutes, or until the cream starts to thicken.
Add the chocolate milk mix and beat for 1 to 2 minutes, or until the beater starts to leave swirls in the cream.
Remove the pie from the freezer and spread the whipped cream evenly over the top.
Sprinkle the pie with the remaining cookie crumb "dirt." Cover and freeze the mud pie for 3 to 4 hours.
Tip: For a personalized pie, have your chef mark it with her initial.
Once the pie has frozen solid, slice it into wedges and eat it right away. If you wait too long to dig in, the pie will turn gooey – just like real mud pie!
Serves 6 to 8 on a muddy indoor day.
Tip:  Consider taking pictures of the mud pie preparation and end result so your child can start her own personal cookbook that can grow with her for years to come!